Confession: Some days I don't feel like teaching. I know, I know. We are supposed to give 100% of ourselves, 100% of the time, but some days that is easier to do than others. I remember wanting to crawl under my desk and take a nap when I was pregnant with my first child and wanting to do the same about 10 months later when he had kept me up all night with teething. I've also drug my rear to school on days I was really sick because I was out of sick days.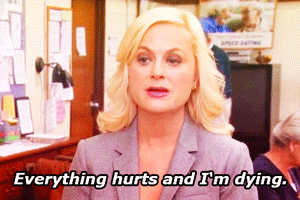 If this sounds at all familiar, here are 8 ideas for those days when you just. can't. do. it. Using them doesn't make you a bad teacher. It makes you human. 💟All are student-centered, easy on the teacher, and meaningful activities to help your students learn Spanish! (PSSST: These ideas double as easy sub plans, too!)
1. TASK CARDS
Give your students a well-rounded review of a topic and give yourself a break at the same time with a
task card
Walk & Write or Scoot*. I've done as little to prep for this activity as hit print. My TA and a couple other students cut the cards out for me while I ran to the bathroom (yay morning, or in my case allllll day, sickness!). They hung cards up on the walls around my room and even hid some of them to make things a little more interesting.
With a Walk & Write, students can spend a good 45 minutes walking around finding cards and writing their answers on their response sheet. Some work independently and others collaborate with each other. Either way, they get a great review of a topic and I get to take a deep breath. I throw up the answer key at the end of the period so they can self-check their answers and have them write the number they get correct at the top of their paper. A quick show of hands later (Raise your hand if you missed 10 or less, 5 or less, 3 or less, none) and I have a really good idea of where my students are with the material. I am able to adjust my lesson plans for the next day accordingly.
I like to play music in Spanish while the kids walk around doing the
task cards
. (Read about my favorite Pandora stations for Spanish class
HERE
)
If you teach different levels of Spanish, you could do what I have done before and have a class take down their task cards at the end of the period and hang up/hide the cards for the next class. Students always think that is a lot of fun. 😊
*Not sure what a Walk & Write or Scoot is? Find the full instructions in my blog post about using task cards in Spanish class
HERE
.
2. MOVIE
Before you roll your eyes, hear me out. Movies can be valuable tools in a world language classroom IF done right. Not only for the target language input, but also for the culture they can expose students to. The trick is making watching the movie meaningful by providing an activity to go along with it. Mis Clases Locas has some movie guides, like
this one for Ferdinand
, that can be differentiated for students of various levels, will keep kids engaged for a full class period or two, and are super easy to use.
Buy Ferdinand on Amazon with free shipping for Prime Members
HERE
.
3. PROJECT
Miss Señorita has a
Spanish Board Game Project
that is always a hit with my students. It is $1.50 and will buy you at least 5 days of awesome, student-centered engagement. All you have to do is print the included rubric, checklist, and instructions and turn the kids loose. The students LOVE making board games and I love that I can have them make board games for any topic, thus making it a perfect activity to use in a pinch. Their creativity blows me away every time! I have the students spend a few days making games and then a couple days playing each other's games. So fun!
4. VOCABULARY ACTIVITIES
Spanish with Sra. Shaw has a fabulous
vocabulary packet
that can be modified for any vocabulary you choose. Throw up a list of vocabulary words you want students to practice, pass out the packet, and watch students work through the six different fun activities.
5. BOOK
Reading is such a powerful learning tool for a language learner AND a great way to keep a classroom quiet and productive while you are nursing a migraine or otherwise not feeling well. Spanish Mama has these fantastic
graphic organizers
that are editable and can be used with
any
novel or story. There are graphic organizers for a variety of tasks and a variety of Spanish levels.
6. VIDEO CLIPS
World Language Café likes to send her students to another country when she is too tired to teach! Ok, not literally, but she does send them on mini field trips to a Hispanic country with her
country video clips
. She says "students learn culture and perhaps even a different perspective on life, while you take a breather from teaching." There are 101 different video clips in her resource, each with comprehension questions for students to answer after they watch the clip.
My students would happily play
¡Cucharas!
or
¡Pesca!
for hours on end if I let them. If you don't already have the cards prepped, enlist the help of your students to cut them. (Read about the material boxes I keep in my classroom for when we need to cut things
HERE
) Once the cards are ready, put students into groups, quickly go over the included instructions, and let them play! Great review of vocabulary or verb conjugations for them, hands-off for you.
Here are a couple FREE games to get you started! I love to keep these prepped and ready to go just in case I need a quick activity or emergency sub plan.


Click HERE to grab this free game!






Click HERE to grab this free game!








8. GLYPHS

Need 45 minutes to sip hot tea and think positive, not going to die, thoughts? Try a glyph from Sol Azúcar by Cathryn Crane! In this

Día de los Muertos glyph

, students read through the prompts and color their calavera based on their personal experiences. Students are always really engaged and enjoy the fun way to review!

If you end up using any of these ideas in your classroom, I would love to hear about it! Please tag me on IG (@laprofeplotts) or let me know on Facebook! These ideas have saved me more than once and I hope they help you, too! As always, if you loved this post, please re-pin it so other teachers can enjoy it, too

↓

! ¡Gracias, amigos!
Find me on Facebook!
Find me on Instagram!
Pin this post for later: